Shift is part of Get Connected by Galaxy Digital, a network trusted by 50,000+ volunteer organizations and over 2 million volunteers.







Your volunteer shift scheduling software should work for you, not the other way around.
An easy-to-use dashboard for organizing your volunteer program. Keep tabs on your volunteer schedule, hours, and emails all in one place.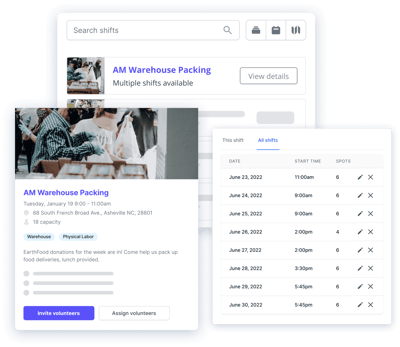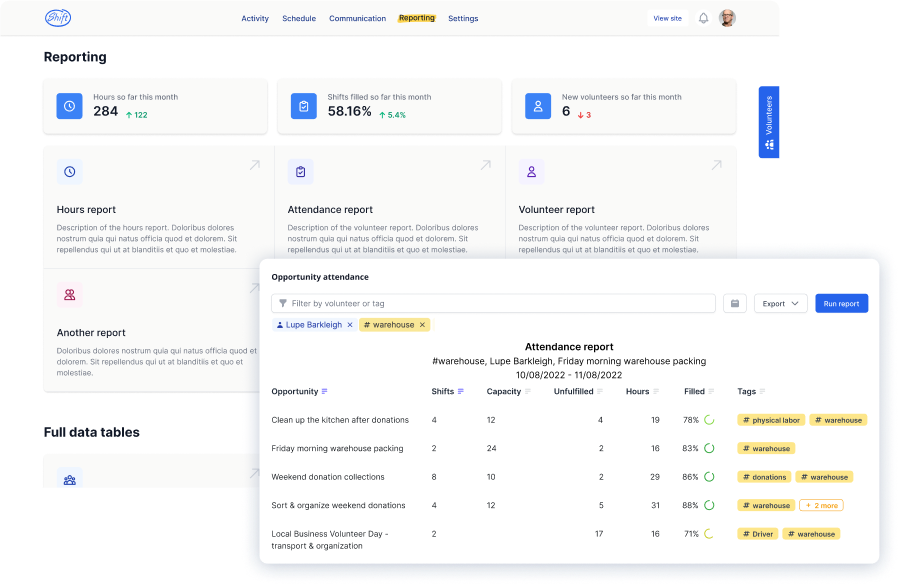 Tell the story of your volunteer program with accurate data.
Tagging and easy-to-use downloadable reports help you find essential
program insights in your volunteer database
Perfect for
Education
Arts & Culture
Food Banks & Pantries
Environment
Community Services
Health
Human Rights
Sports & Recreation
Human Services
Faith-Based
Government
Community Development
Legal
Public Safety
Housing
Volunteer Managers Love Us
An easy-to-use dashboard for organizing your volunteer program.
"Shift has made my life so much simpler"
Siena was navigating a maze of disorganized tools to manage her volunteer program. Then she found Shift and realized how much time she had been wasting.

Watch her story and see if you're ready to streamline your tools too.
"Volunteer shifts are filling themselves!"
Candice completely transformed her volunteer program by using Shift to unify her volunteer database and bring her most important tasks into one place. Candice loves how Shift looks and the ease of use for she and her volunteers!

Watch her story and see how Shift made recruiting volunteers easier.
FAQ
Frequently Asked Questions
Bring all of your volunteers, tools, and tasks together in minutes.
✨ Try Shift Free for 30 Days. ✨
Get started managing your volunteers in 5 minutes with easy, guided site set-up.
Free for 30 days, then $39/month after that.
No limit to registered volunteers, ever.